Dr Anthony Paul Buckley
Anthony Paul Buckley is Assistant Head, School of Marketing in the Faculty of Business at the Technological University Dublin (TU Dublin). He is Programme Director on the MSc (Business & Entrepreneurship), MSc (Sales Management) and a number of CPD programmes at post graduate level. He is also the Co-chair of the BA (Hons) degree in International Business & Languages.
His research interests centre on the enterprise (Stand up, Start-up & Scale up) domain with particular emphasis on Entrepreneurship processes (Traditional & Digital) & Innovation management in addition to Research & Evaluation methodology in the enterprise domain.
His research is published in international academic journals including: Journal of Business Venturing Insights, Evaluation Journal, European Management Review, Industry & Higher Education and the Electronic Journal of Business Research methods (EJBRM).
Conference proceedings publications include: The ICSB World Entrepreneurship Conference, The European Conference on Research Methods (ECRM), The International Conference on Innovation and Entrepreneurship (ICIE), The European Conference on Innovation and Entrepreneurship (ECIE), The International Conference for Entrepreneurship, Innovation and Regional Development (ICEIRD) and The Triple Helix Association Conference (THA).
Dr Buckley also won Best Paper awards at the European Evaluation Society Conference (EES) in 2014 and at the ISBE Conference (2018) in the Technology Entrepreneurship track. In addition, he was awarded a Teaching Fellowship in the College of Business (2014) to research Entrepreneurship and Innovation learning outcomes.
In 2022, Dr Buckley's co-authored book on Digital Entrepreneurship – Disruption and new venture creation will be published by Edward Elgar.
An experienced international educator, trainer and business consultant, Dr Buckley has delivered education and training on innovation management in the Middle East, Central Asia and Europe. He has also consulted on a European Union (EU) knowledge transfer project (ICTentr) with leading Universities in Vietnam. Whilst in Vietnam, he also delivered design thinking and digital entrepreneurship training to client companies of the Vietnamese Chamber of Commerce and Industry (VCCI).
Dr Buckley holds a BSc in Management and a Masters in Arts (MA) from Trinity College Dublin, a Master's in Business Studies (MBS) from University College Dublin (UCD), a Postgraduate Certificate in Learning and Teaching from the Dublin Institute of Technology (DIT) and a PhD in management from Lancaster University (UK).
Prior to joining TU Dublin, Dr Buckley had a distinguished career in business and business support. He worked for the Irish Trade Board in Dublin and New York as a Marketing Adviser, for Nissan as a Marketing Director, for Meteor Mobile as a Director of Marketing, for Publicis PLC as a Senior Account director and for Glen Dimplex Group as Group Export Director and as the inaugural Chief Executive of Glen Dimplex Exports LTD. In addition to the above posts, he also held senior leadership roles in a number of SME's in the print and design sectors. He currently serves as a voluntary board member for the association for key account management (AKAM).
Dr Buckley has supervised three students to PhD awards so far and currently has two more due to graduate in 2022. Dr Buckley is currently taking applications from students interested in PhD studies in the enterprise domain – for a September 2022 start.
Best Track Paper
Issued by ISBE Conference · Nov 2018
Best Track Paper Award in Technology Entrepreneurship at the 41st ISBE Conference in Birmingham, UK, 2018
Visiting Associate Professor
Issued by Nazarbayev University, Graduate School of Business · Apr 2015
Best Paper Award - European Evaluation Society 2014 & Best Paper Award 'Technology Entrepreneurship' Track ISBE 2018
Oct 2014
Associated with Technological University Dublin
http://www.dit.ie/news/archive2014/latest/title,103213,en.html
Highly Commended Paper in Technology Entrepreneurship, 42nd ISBE Conference, Newcastle, 2019
Issued by ISBE
Associated with Technological University Dublin
Visiting Lecturer
Issued by Information Technology Institute · May 2013
Teaching Fellowship
Issued by Dublin Institute of Technology – College of Business · Dec 2013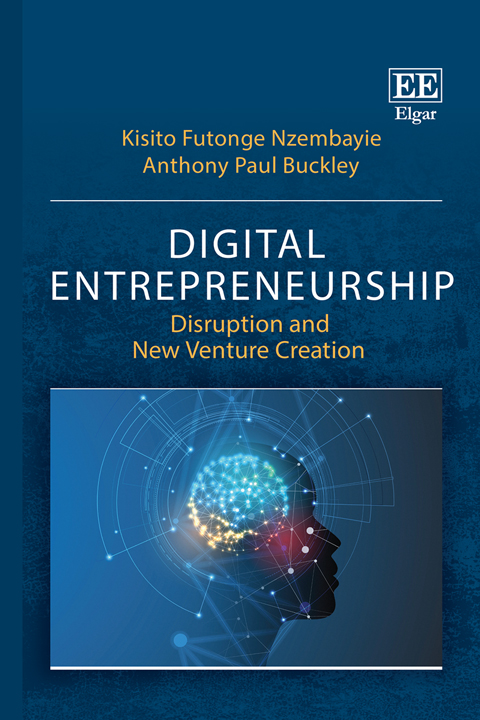 Recognizing how the lines between digital and traditional forms of entrepreneurship are blurring, this forward-thinking book combines digital technology and entrepreneurship perspectives to advance knowledge on this paradigm-shifting typology of entrepreneurship.
Stay tuned
Subscribe to newsletter to stay up to date.