Dr Kisito Futonge Nzembayie
Kisito Futonge Nzembayie obtained his PhD in Digital Entrepreneurship at the Technological University Dublin where he lectured full-time for 2 years afterwards. He is an Assistant Professor in Entrepreneurship at the Trinity Business School, TCD. His core areas of research and practice are in Digital Entrepreneurship and Digital Growth Marketing.
He has published academic papers in peer-reviewed journals and authored a book on the all-important theme of Digital Entrepreneurship with Edward Elgar – https://www.e-elgar.com/shop/gbp/digital-entrepreneurship-9781802200577.html. Likewise, he has won 'Best Paper' awards and nomination for 'Best Paper' at prestigious academic conferences such as ISBE (UK 2018) and ECRM (Dublin 2017). As an academic, he is still very much immersed in the practice of Digital Entrepreneurship.
Accordingly, he is also a serial digital entrepreneur in the EdTech space, with 4 active ventures which have since jointly recorded over 70 million global web sessions as of 2021. In the process of bootstrapping these ventures from his own savings to great successes, he has developed first-hand knowledge and skills in agile digital new venture creation and entrepreneurial bricolage. Consequently, he is a skilled Digital Growth Marketer and Digital Project Manager with deep SEO, SMO, Digital Advertising and other data-driven decision making capabilities. Then, there is the linguistic and cross-cultural capabilities side. He has lived on three continents (Africa, Asia & Europe) and possess a fluent command of Mandarin Chinese in addition to other languages – having spent 12 years in China prior while performing in multiple roles as a language educator, global trader & more.
Best Track Paper
Issued by ISBE Conference · Nov 2018
Best Track Paper Award in Technology Entrepreneurship at the 41st ISBE Conference in Birmingham, UK, 2018
Best PhD Paper & Presentation - 16th ECRM
Issued by ECRM 2017 · Jun 2017
Associated with Technological University Dublin
Best PhD paper and presentation at the 16th European Conference on Research Methodology.
Highly Commended Paper in Technology Entrepreneurship, 42nd ISBE Conference, Newcastle, 2019
Issued by ISBE
Associated with Technological University Dublin
Gold Medal Award - Top Score in Master's Programme
Issued by Dublin Institute of Technology College of Business – Presented by Dr. Amr Arisha · Dec 2015
Associated with Technological University Dublin
A second gold medal award for achieving highest score in the Master's in Business and Entrepreneurship Programme.
Gold Medal - Student Excellence Award
Issued by College of Business, President of DIT · Nov 2015
Associated with Technological University Dublin
Awarded for earning top score at the Master's in DIT's college of business.
75% average and First Class Honours.
Entrepreneurial Process Studies Using Insider Action Research: Opportunities & Challenges for Entrepreneurship Scholarship
European Management Review · Aug 3, 2020
This paper examines the opportunities and challenges of adopting insider action research (IAR) in entrepreneurial process studies. By breaking down the silos between action research and entrepreneurship scholarship, this paper contributes towards responding to the need for phenomenon‐methodology fit in the discipline.
Researching Pure Digital Entrepreneurship – A Multimethod Insider Action Research approach
Journal of Business Venturing Insights Volume 11, June 2019, e00103 · Dec 31, 2018
Highlights
•Digital entrepreneurship has recently emerged as a discrete theme in entrepreneurship.
•The need for enactive design research methods on the digital entrepreneurial journey has correspondingly been expressed.
•The modular architecture of Insider Action Research allows for subsuming design research in a multimethod framework.
•Multimethod Insider Action Research (MIAR) offers a suitable tool for inquiry into pure digital entrepreneurship journeys.
•This paper uses a live case to illustrate practicalities in design and implementation.
Using Insider Action Research in the Study of Digital Entrepreneurial Processes
The Electronic Journal of Business Research Methods · Oct 1, 2017
Was invited to expand the 16th ECRM paper for the journal. Based on my current doctoral study.
Using Insider Action Research in the Study of Digital Entrepreneurial Processes: A Pragmatic Design Choice?
16th European Conference on Research Methodology · Jun 23, 2017
This paper proposes that insider action research (IAR), with its iterative and emergent form of inquiry, presents a pragmatic design choice for understanding the nature of uncertainty surrounding the digital entrepreneurial process. Since entrepreneurship in the digital context is a highly dynamic and fluid process, IAR appears well-suited for use in researching it. Yet, the paucity of application in entrepreneurship research in general, and less so in the emerging digital space, is rather puzzling. Thus, using a 'live' case study in the e-learning domain, this paper contributes by shining light on how this design choice might be set up and applied in digital entrepreneurship experimentation.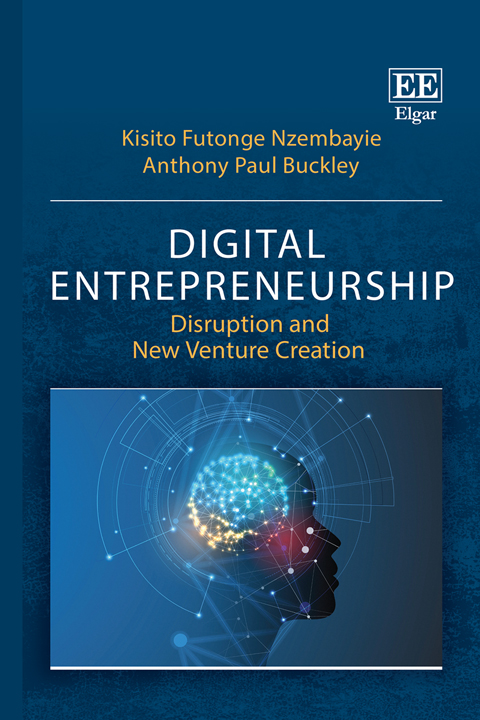 Recognizing how the lines between digital and traditional forms of entrepreneurship are blurring, this forward-thinking book combines digital technology and entrepreneurship perspectives to advance knowledge on this paradigm-shifting typology of entrepreneurship.
Stay tuned
Subscribe to newsletter to stay up to date.